History, so far..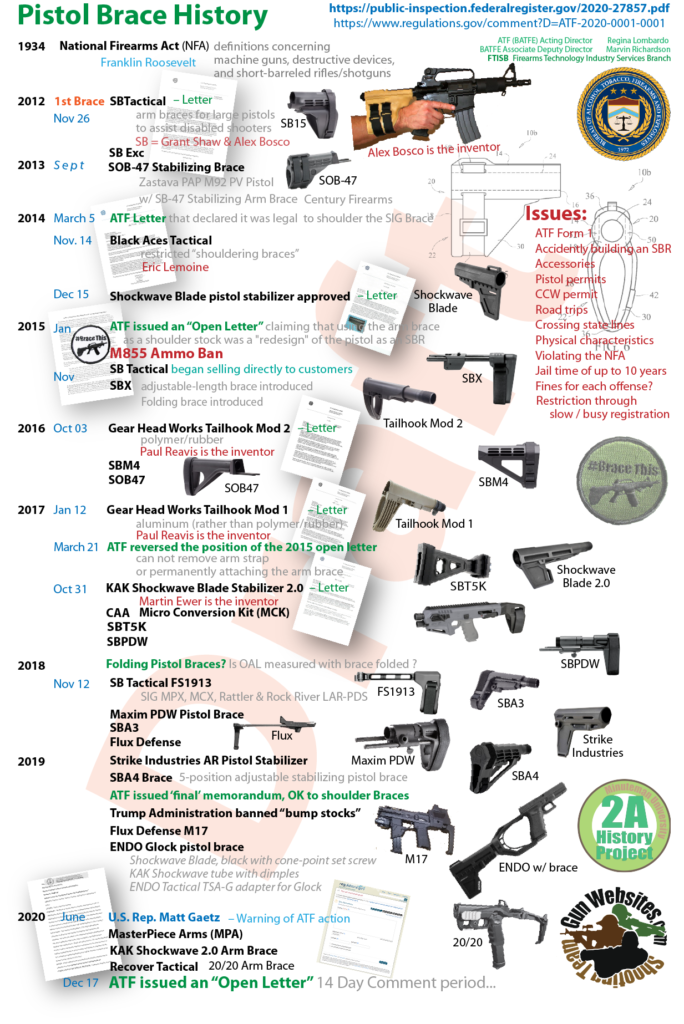 2012 1st Brace – Letter
– SBTactical
– exclusive agreements with SIG SAUER & Century Arms
2013
– Sig Brace
– SB-47 Stabilizing Brace – Century Arms PAP M92 PV Pistol
2014
– March 5 ATF approval letter that declared it was legal
to shoulder an AR-15 pistol equipped with the SIG Brace
2015
– Jan

ATF issued an "Open Letter"

claiming that using the arm brace as a
shoulder stock was a "redesign" of the pistol as an SBR
2016
– Oct 3 Gear Head Works Tailhook Mod 2 – Letter
2017
– Jan 12 Gear Head Works Tailhook Mod 1 – Letter
– March 21 – ATF reversed the position of the 2015 open letter
– Oct 3 – KAK Shockwave Blade Stabilizer 2.0 – Letter
2018
– OAL measured with brace folded ??
– Maxim PDW Pistol Brace
– Nov 12 – SB Tactical FS1913
– SBTactical – SOB47
– SBTactical – SBPDW
– Strike Industries AR Pistol Stabilizer
2019
– SBTactical – SBA4 Brace
– ATF issued 'final' memorandum = OK to shoulder Braces
2020
– June U.S. Rep. Matt Gaetz – Warning of ATF action
– Recover Tactical 20/20 Arm Brace
2021
– ???
---
Resources
Reading all 15 pages of the ATF Pistol Brace Letter
– No Commentary
https://www.youtube.com/watch?v=pVY7_b4cfUM
BREAKING: ATF to Issue Guidance on "Stabilizing Braces"
Dec 16, 2020 by Firearms Policy Coalition
https://www.firearmspolicy.org/atf-to-issue-guidance-stabilizing-braces
ATF TO INSTITUTE RULEMAKING/GUIDANCE REGARDING STABILIZING BRACES AND REQUIRE REGISTRATION OF CURRENTLY OWNED BRACES
Dec 16, 2020 by Joshua Prince, Esq.
https://blog.princelaw.com/2020/12/16/atf-to-institute-rulemaking-regarding-stabilizing-braces-and-require-registration-of-currently-owned-braces/
FUDDBUSTERS: Pistol Braces STILL NOT BANNED. The truth about ATF's new proposed rulemaking
Dec 17, 2020  (16,613 views)
https://www.youtube.com/watch?v=cnfZOoRNtys
Initial Thoughts on the "register your braced pistols as SBRs" letter from the ATF…
Dec 17, 2020 (3,956 views)
https://www.youtube.com/watch?v=iOKG0RgSvYM
Pistol Stocks Skirting the LAW?…Should You Buy One?
(INSIDE GUNS w/TYM S1:E25)
Dec 19, 2020 (13,080 views)
https://www.youtube.com/watch?v=VjhQWOsbZ-s
EXPLAINED: ATF Letter Regarding Pistol Braces
Dec 17, 2020 (175,628 views)
https://www.youtube.com/watch?v=yfDm5yfdh4Q&t=27s
ATF & Stabilizing Braces Hunters, Fudds, Jocks & Operators UNITE
Dec 20, 2020 (117 views)
https://www.youtube.com/watch?v=CWcXkAfVh1U
---


2015, There was a Comment Period like this one for a proposed
Import Ban on M855 Ammo Ban
Notice to those Commenting on
the Armor Piercing Ammunition Exemption Framework
      Thank you for your interest in ATF's proposed framework for determining whether certain projectiles are "primarily intended for sporting purposes" within the meaning of 18 U.S.C. 921(a)(17)(C). The informal comment period will close on Monday, March 16, 2015. ATF has already received more than 80,000 comments, which will be made publicly available as soon as practicable.

Although ATF endeavored to create a proposal that reflected a good faith interpretation of the law and balanced the interests of law enforcement, industry, and sportsmen, the vast majority of the comments received to date are critical of the framework, and include issues that deserve further study. Accordingly, ATF will not at this time seek to issue a final framework. After the close of the comment period, ATF will process the comments received, further evaluate the issues raised therein, and provide additional open and transparent process (for example, through additional proposals and opportunities for comment) before proceeding with any framework.
---
Manufacturers
---
The Official Text (on FederalRegister.gov)
Objective Factors for Classifying Weapons with "Stabilizing Braces"
– Link
– .pdf copy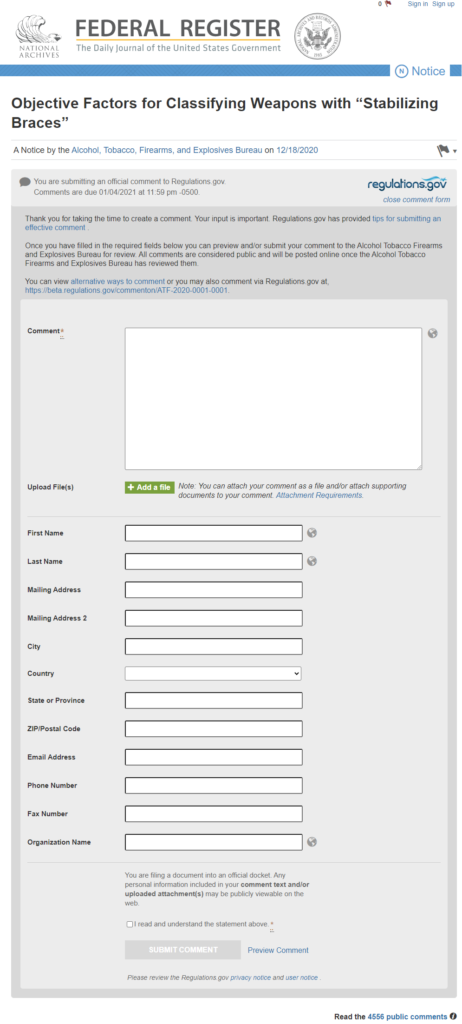 ---
2A Laws in the USA
(Visited 1,384 times, 1 visits today)