---
Tax-exempt second amendment focused organizations have become increasingly prevalent in recent years, as gun ownership and the debate surrounding gun rights continues to be a highly contested topic in the United States. These organizations, which are typically classified as 501(c)(3) or 501(c)(4) tax-exempt entities, engage in a range of activities aimed at advancing the interests of gun owners and promoting the second amendment. This can include lobbying efforts, political campaigning, educational initiatives, and community outreach programs.
First comparison is FPC, SAF & GOA: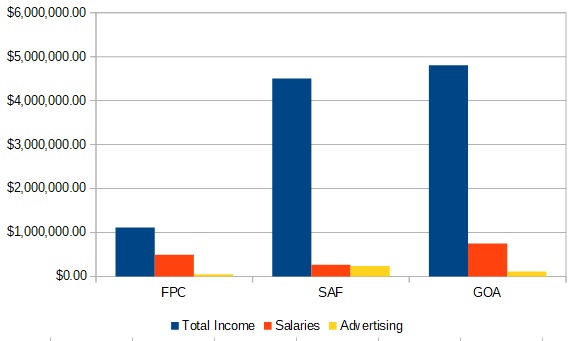 Next comparison is FPC, CCRKBA, NASGW, SAF, GOA & NAGR: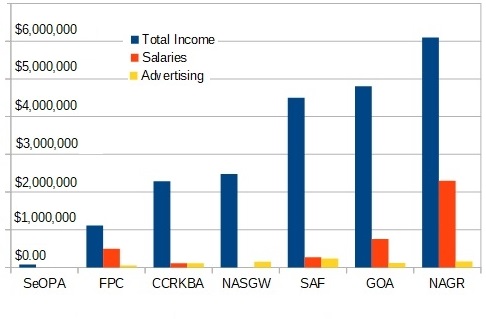 While these organizations enjoy certain tax benefits, they are subject to regulations and reporting requirements set forth by the Internal Revenue Service (IRS). As such, it is important for individuals and organizations involved in these activities to understand the legal and financial implications of tax-exempt status.
Next comparison is FPC, CCRKBA, NASGW, SAF, GOA, NAGR & NSSF:
NSSF hosts SHOT Show each year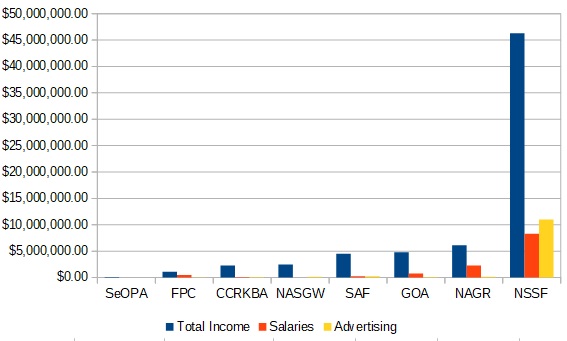 Now with NRA included for perspective:
Same chart this is how much larger the NRA is than them
---
gun = 1,469 organization
shooting = 587 organization
rifle = 518 organization
pistol = 281 organization
nra = 7 organization








---
NATIONAL RIFLE ASSOCIATION OF AMERICA
https://projects.propublica.org/nonprofits/organizations/530116130
FAIRFAX, VA

Tax-exempt since April 1944

501(c)(4)
Donations to this organization are NOT tax deductible.
2020 = $291,155,464
2019 = $352,550,864
2018 = $311,987,734
2017 = $366,889,703
2016 = $336,709,238
2013 = $347,968,789
2012 = $256,290,928
2011 = $218,983,530
---
GUN OWNERS OF AMERICA INC
https://projects.propublica.org/nonprofits/organizations/521256643

SPRINGFIELD, VA

Tax-exempt since April 1978

501(c)(4)
Donations to this organization are NOT tax deductible.
2020 = $6,197,962
2019 = $5,866,266
2018 = $4,802,572
2017 = $2,276,537
2016 = $2,259,601
2015 = $2,152,940
2014 = $1,943,077
2013 = $3,244,560
2012 = $2,358,893
2011 = $1,835,550
---
SECOND AMENDMENT FOUNDATION
https://projects.propublica.org/nonprofits/organizations/916184167
BELLEVUE, WA

Tax-exempt since April 1975

501(c)(3)
Donations to this organization ARE tax deductible.
2020 = $5,133,327
2019 = $4,487,488
2018 = $4,782,270
2017 = $3,960,911
2016 = $4,080,423
2015 = $4,079,691
2014 = $4,462,043
2013 = $5,829,479
2012 = $4,342,393
2011 = $3,894,695
---
NATIONAL ASSOCIATION FOR GUN RIGHTS INC
https://projects.propublica.org/nonprofits/organizations/542015951
FREDERICKSBRG, VA

Tax-exempt since May 2001

501(c)(4)
Donations to this organization are NOT tax deductible.
2020 = $9,802,484
2019 = $6,093,701
2018 = $6,697,870
2017 = $7,110,567
2016 = $10,706,602
2015 = $10,500,241
2014 = $12,451,900
2013 = $16,432,656
2012 = $7,124,924
2011 = $3,760,097
---
FIREARMS POLICY COALITION
https://projects.propublica.org/nonprofits/organizations/472460415

Tax-exempt since Oct. 2015

SACRAMENTO, CA 95814-3954

501(c)(4)
Donations to this organization are NOT tax deductible.
2020 = $3,054,588
2019 = $1,213,441
2018 = $650,818
2017 = $1,112,364
2016 = $788,022
2015 = $61,522
---
NATIONAL SHOOTING SPORTS FOUNDATION INC
https://projects.propublica.org/nonprofits/organizations/60860132
SHELTON, CT

Tax-exempt since Jan. 1971

501(c)(6)
Donations to this organization are NOT tax deductible
2020 = $46,704,892
2019 = $46,307,739
2018 = $44,022,322
2017 = $43,328,520
2016 = $36,278,652
2015 = $35,598,954
2014 = $34,345,801
2013 = $28,289,901
2012 = $26,874,457
---
JEWS FOR THE PRESERVATION OF FIREARMS OWNERSHIP INC
https://projects.propublica.org/nonprofits/organizations/391732344
BELLEVUE, WA

Tax-exempt since Dec. 1993

501(c)(3)
Donations to this organization ARE tax deductible.
2019 = $71,589
2018 = $84,877
2017 = $69,572
2016 = $127,851
2015 = $97,835
---
THE UNITED STATES PRACTICAL SHOOTING ASSOCIATION/IPSC
https://projects.propublica.org/nonprofits/organizations/911325053
BURLINGTON, WA

Tax-exempt since Aug. 1987

501(c)(3)
Donations to this organization ARE tax deductible.
2020 = $2,730,855
2019 = $2,708,276
2018 = $2,557,174
2017 = $2,229,232
2016 = $1,977,303
2015 = $1,843,400
---
U S A SHOOTING
https://projects.propublica.org/nonprofits/organizations/841263863
COLORADO SPGS, CO

Tax-exempt since Nov. 1994

501(c)(3)
Donations to this organization ARE tax deductible.
2020 = $4,154,250
2019 = $6,428,758
2018 = $7,016,907
2017 = $4,343,090
2016 = $5,386,549
2015 = $6,427,662
2014 = $6,191,288
2013 = $5,395,668
2012 = $5,455,518
2011 = $5,381,098
---
SCHOLASTIC SHOOTING SPORTS FOUNDATION INC
https://projects.propublica.org/nonprofits/organizations/208484121
SAN ANTONIO, TX

Tax-exempt since Dec. 2007

501(c)(3)
Donations to this organization ARE tax deductible.
2020 = $3,706,824
2019 = $3,723,496
2018 = $3,304,687
2017 = $3,444,798
2016 = $3,608,020
2015 = $3,422,553
2014 = $1,814,422
2013 = $1,970,881
2012 = $1,674,088
2011 = $640,100
---
NATIONAL SKEET SHOOTING ASSOCIATION A TEXAS CORP
https://projects.propublica.org/nonprofits/organizations/750108632
SAN ANTONIO, TX
Tax-exempt since April 1987
501(c)(3)
Donations to this organization ARE tax deductible.
2020 = $7,643,308
2019 = $10,110,467
2018 = $10,091,153
2017 = $10,135,811
2016 = $9,336,383
2015 = $8,858,395
---
NATIONAL MUZZLE LOADING RIFLE ASSOCIATION
https://projects.propublica.org/nonprofits/organizations/351046434
FRIENDSHIP, IN

Tax-exempt since April 1991

501(c)(3)
Donations to this organization ARE tax deductible.
2020 = $1,259,575
2019 = $1,749,807
2018 = $1,460,618
2017 = $1,656,286
2016 = $1,546,683
2015 = $1,797,146
2014 = $2,051,889
2013 = $1,647,403
2012 = $1,461,929
2011 = $1,530,091
---
NEBRASKA FIREARMS OWNERS ASSOCIATION
↳ NFOA
https://projects.propublica.org/nonprofits/organizations/263679369
OMAHA, NE

Tax-exempt since June 2014

501(c)(4)
Donations to this organization are NOT tax deductible
2020 = small organization (less than $50,000 in gross receipts)
---
BUCKEYE FIREARMS ASSOCIATION INC
https://projects.propublica.org/nonprofits/organizations/464076332
GREENVILLE, OH

2020 =
2019 =
2018 =
2017 =
2016 =
2015 =
Key Employees and Officers
Compensation
DEAN RIECK

(EXECUTIVE DI)

$36,000
JAMES IRVINE

(PRESIDENT)

$0
LINDA WALKER

(VICE PRESIDE)

$0
JOSEPH EATON

(TREASURER)

$0
CHAD BAUS

(SECRETARY)

$0
SEAN MALONEY

(BD MEMBER)

$0
BRAD BIRCHFIELD

(BD MEMBER)

$0
---
BUCKEYE FIREARMS FOUNDATION INC
https://projects.propublica.org/nonprofits/organizations/261239294
BLUE CREEK, OH
Tax-exempt since Nov. 2008
501(c)(3)
Donations to this organization ARE tax deductible.
2020 = $440,368
2019 = $418,544
2018 = $428,429
2017 = $303,300
2016 = $253,669
2015 = $254,365
---
REALIZE FIREARMS AWARENESS COALITION
https://projects.propublica.org/nonprofits/organizations/463377299
WAYLAND, OH

Tax-exempt since June 2014

501(c)(3)
Donations to this organization ARE tax deductible.
2020 = small organization (less than $50,000 in gross receipts)
---
SOUTHERN ARIZONA FIREARMS EDUCATORS INC
https://projects.propublica.org/nonprofits/organizations/860730875
TUCSON, AZ

Tax-exempt since Dec. 2021

501(c)(3)
Donations to this organization ARE tax deductible.
2020 = small organization (less than $50,000 in gross receipts)
---
ASSOCIATION OF FIREARMS HISTORY AND MUSEUMS
https://projects.propublica.org/nonprofits/organizations/834657349
CODY, WY

Tax-exempt since May 2019

501(c)(3)
Donations to this organization ARE tax deductible.
2020 = small organization (less than $50,000 in gross receipts)
---
NRA SOUTHERN ARIZONA FIELD SUPPORT TEAM INC
https://projects.propublica.org/nonprofits/organizations/861002012
TUCSON, AZ

Tax-exempt since April 2001

501(c)(4)
Donations to this organization are NOT tax deductible
2018 = $28,059
2017 = $16,340
2016 = $6,822
2015 = $32,645
2014 = $19,228
2013 = $37,250
2012 = $26,312
2011 = $14,632
Key Employees and Officers
Compensation
DANIEL P DEWEY

(PRESIDENT AND TREASURER)

$0
LOIS CHEDSEY

(SECRETARY)

$0
---
TEXAS STATE RIFLE ASSOCIATION
https://projects.propublica.org/nonprofits/organizations/237361568
BASTROP, TX

Tax-exempt since June 1951

501(c)(4)
Donations to this organization are NOT tax deductible
2020 = $687,188
2019 = $921,071
2018 = $967,554
2017 = $742,700
2016 = $970,149
2015 = $1,374,557
2014 = $1,163,106
2013 = $1,680,632
2012 = $1,397,989
2011 = $1,107,660
---
TUCSON RIFLE CLUB INC
https://projects.propublica.org/nonprofits/organizations/860257118
TUCSON, AZ

Tax-exempt since Jan. 1998

501(c)(4)
Donations to this organization are NOT tax deductible
2020 = $229,514
2019 = $201,955
2018 = $206,652
2017 = $151,959
2016 = $203,244
2015 = $139,415
2014 = $137,164
2013 = $153,705
2012 = $148,226
2011 = $138,942
---
CALIFORNIA RIFLE AND PISTOL ASSOCIATION INC
https://projects.propublica.org/nonprofits/organizations/952258096
FULLERTON, CA

Tax-exempt since June 1984

501(c)(4)
Donations to this organization are NOT tax deductible
2020 = $2,415,179
2019 = $1,861,371
2018 = $1,899,503
2017 = $1,704,096
2016 = $1,410,267
2015 = $1,255,860
2014 = $1,287,951
2013 = $1,256,665
2012 = $899,804
2011 = $1,506,342
---
DESERT SPORTSMANS RIFLE AND PISTOL CLUB INC
https://projects.propublica.org/nonprofits/organizations/880229448
LAS VEGAS, NV

Tax-exempt since Dec. 1998

501(c)(7)
Donations to this organization are NOT tax deductible
2020 = $516,025
2019 = $440,293
2018 = $433,058
2017 = $405,328
2016 = $355,401
2015 = $262,258
2014 = $215,060
2013 = $215,767
2012 = $252,483
2011 = $245,400
2010 = $303,021
---
NEW YORK STATE RIFLE & PISTOL ASSOCIATION INC
https://projects.propublica.org/nonprofits/organizations/146032535
E GREENBUSH, NY

Tax-exempt since Aug. 1966

501(c)(4)
Donations to this organization are NOT tax deductible
2020 = $457,368
2019 = $495,484
2018 = $375,793
2017 = $385,938
2016 = $428,320
2015 = $510,834
2014 = $540,508
2013 = $1,141,270
2012 = $301,700
2011 = $230,726
---
ASSOCIATION OF NEW JERSEY RIFLE & PISTOL CLUBS INC
https://projects.propublica.org/nonprofits/organizations/221911024
NORTH HALEDON, NJ

Tax-exempt since April 1971

501(c)(7)
Donations to this organization are NOT tax deductible
2020 = $1,454,828
2019 = $1,410,041
2018 = $1,549,673
2017 = $1,463,717
2016 = $1,403,664
2015 = $1,211,977
2014 = $1,221,362
2013 = $1,314,781
2012 = $1,167,294
2011 = $912,356
---
CORPORATION FOR THE PROMOTION OF RIFLE PRACTICE AND FIREARMS SAFETY
↳ CIVILIAN MARKSMANSHIP PROGRAM
https://projects.propublica.org/nonprofits/organizations/341839195
ANNISTON, AL

Tax-exempt since May 2006

501(c)(3)
Donations to this organization ARE tax deductible.
2020 = $32,208,811
2019 = $24,730,352
2018 = $22,635,695
2017 = $33,464,155
2016 = $20,134,510
2015 = $23,164,372
2014 = $25,244,883
2013 = $35,343,319
2012 = $31,750,872
2011 = $28,497,239
---
WATERFORD WOLVERINE SHOOTING TEAM INC
https://projects.propublica.org/nonprofits/organizations/472340836
WATERFORD, WI

Tax-exempt since Nov. 2014

501(c)(3)
Donations to this organization ARE tax deductible.
2020 = $141,056
2019 = $105,077
2018 = $84,692
2017 = $45,349
2016 = $54,744
2015 = $48,686
2014 = $500
---
SOCIALIST RIFLE ASSOCIATION INC
https://projects.propublica.org/nonprofits/organizations/832146166
WICHITA, KS

Tax-exempt since Feb. 2019

501(c)(4)
Donations to this organization are NOT tax deductible
2019 = $97,218
Key Employees and Officers
Compensation

(Secretary)

$11,316
 

(President)

$9,129
 

(Treasurer)

$1,339
 

(Secretary)

$1,028
---
Gun Rights Groups Timeline
Past SHOT Shows
NRA Meetings
2A Rallys
2A Events
Yearly Firearm Events
---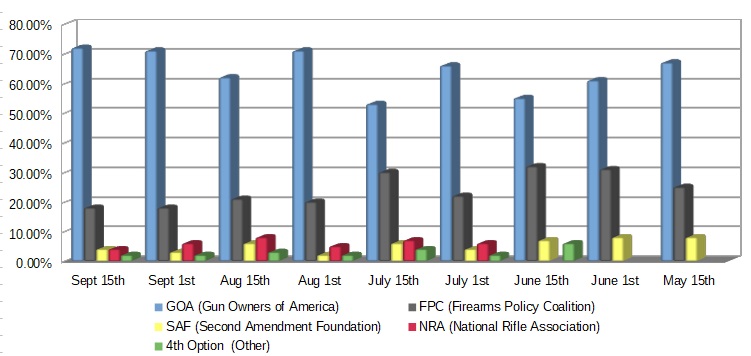 (Visited 49 times, 1 visits today)