PALMA Team Match Competition
fullbore rifle discipline
shot with iron sighted rifles
Shot prone
supported with a sling (no bipods or rests are permitted)
at ranges from 300 to 1000 yards
International competitions
only two permitted calibers  .223 Remington or .308 Winchester
International PALMA Trophy team shooting is dedicated, "to sustain in its finest tradition the superb competition in long range rifle marksmanship, which since 1876 has engendered mutual understanding and friendship, warm goodwill, and above all good sportsmanship among marksmen."
September 13-14, 1876 – first PALMA Trophy Match held at Creedmoor Range, Long Island, New York
contested of teams from the U.S., Australia, Canada, Scotland and Ireland
muzzleloading rifles
27 official competitions have been held
3 unofficial competitions
United States has won 13 of the 27 competitions
The matches continued to the late 1920s
The trophy was eventually lost in Washington DC around the outbreak of WW2
1966 – match was revived in the modern era in Canada
---
1999 – Now known as International Confederation of Fullbore Rifle Associations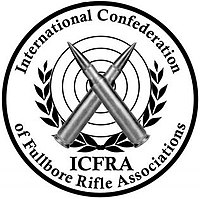 ---
Ranges that the matches have been conducted at :
Anzac (Australia)
Bisley Camp (England)
Bloemfontein (South Africa)
Camp Perry (USA)
Connaught (Canada)
Rockcliffe (Canada )
Sea Girt (USA)
Seddon Range
(New Zealand)
Whittington Center (USA)
PALMA Trophy Match Team is shot in three stages of slow fire in the prone position. The first stage is two sighting shots and 15 shots for record per shooter at 800 yards. The second stage is two sighters and 15 shots for record at 900 yards per shooter. The third stage is two sighters and 15 shots for record at 1000 yards per shooter. Each national team consists of 16 shooters who form ranks and shoot on four targets at each stage.
The PALMA bolt action rifles are 7.62mm NATO caliber (Winchester .308) and fire Match Grade ammunition using a 155 grain bullet.
Micrometer aperature (iron) sights are used for sighting.
The target is six feet square and has a 20 inch bullseye (10 ring). An aiming black circle of 44 inches includes a 9 and 8 ring. A possible score of 150 points can be achieved by each team member in each stage of fire. This adds up to 7,200 possible points for each national team per day of competition.
USA PALMA Rifle Team 
P.O. Box 441
Mineral, VA 23117
865 229-2561
(Visited 24 times, 1 visits today)